Hey everybody,
Two exciting pieces of content for you this week: a podcast with one of my favorite writers and an article about how I choose what to read.
The article is based on my 12 rules for reading:
Have a bias against mainstream books, articles, and information sources. Engage with topics, ideas, and events that nobody is talking about.

Reading is a process, a mindset, and a way of life. Strive to read a lot.

Always ask: Am I actually progressing or is this source giving me the illusion of progress?

Pretend you have the choice between two articles. Article #1 is on a website that's ugly, obscure, and hard to navigate. Article #2 is on a website that's pretty, mainstream, and easy to navigate. Read article #1 every time. If you want the backstory, read Surgeons Should Not Look Like Surgeons.

The best biography is the one the subject of the biography doesn't approve of.

Read books that intimidate you. Have a bias for books that would push most people away. These books are either too long, too difficult, or too counter-intuitive, but they will likely contain information that will give you an edge.

Time is like a filter for quality. Read books that've stood the test of time. Have a bias towards old, weird books.

Past a certain point, it is more productive to read around your field than within your field.

Read in clusters and learn via entry points. I've been learning about the history of New York. Instead of reading a book directly about "The History of New York," I've explored the the Art Deco movement, powerful New York City political figures, the New York Yankees, and the history of New York City architecture.

Read books that the ideal version of yourself (in 20 years) would have been proud to have read.

Seek diversity in your reading life. New ideas come from the weird juxtaposition of ideas. Right now, I'm reading a book about Austrian Economics, the history of art from ancient times to the modern era, a collection of essays on the role of media throughout history, urban politics in New York City, and another book on how music works.

Try not to read what everybody else is reading. I try not to look for the best books. Instead, I look for the most under-valued books. Crucially, this heuristic guides me towards ideas that nobody is talking about. If everybody is talking about the book you're reading, consider another book.
— —
Quick note: I will be in Chicago in early February (February 6 - 11) for a series of podcast interviews. Right now, my only confirmed guest is Jason Fried, the founder of Basecamp. Guest recommendations and personal introductions are always appreciated.
While I'm in Chicago, I'll be hosting a Monday Musings meet up.
Date: February 6th, 6:30pm

Location: On Tour Brewing Company

Address: 1725 W Hubbard St. Chicago, IL 60622
If you plan to attend, please let me know by responding to this email.
---
Fresh Ideas
This was a special episode. I started reading Tal's work in college. I remember sitting on a beanbag in the student center, reading his exquisite writing, and saying to myself "this is what I want to do after I graduate."
Note: If you're not familiar with Tal, here's a link to his writing. Tal's articles are some of the best articles ever written on the future of media.
Today, Tal works for Immortals, a global eSports organization in Los Angeles, where he is the Chief Digital Officer and leads consumer-facing operations. Before that, Tal led strategy and growth for BuzzFeed studios, focusing on growing audience and monetizing Buzzfeed's intellectual property across channels.
We devoted the entire episode to the future of media. We talked about:
Netflix vs. Amazon vs. HBO

Food culture on the internet

Feeds vs. Tiles

Why Hollywood is an API for Silicon Valley

Feedback loops between digital and physical reality
You can listen to the episode here.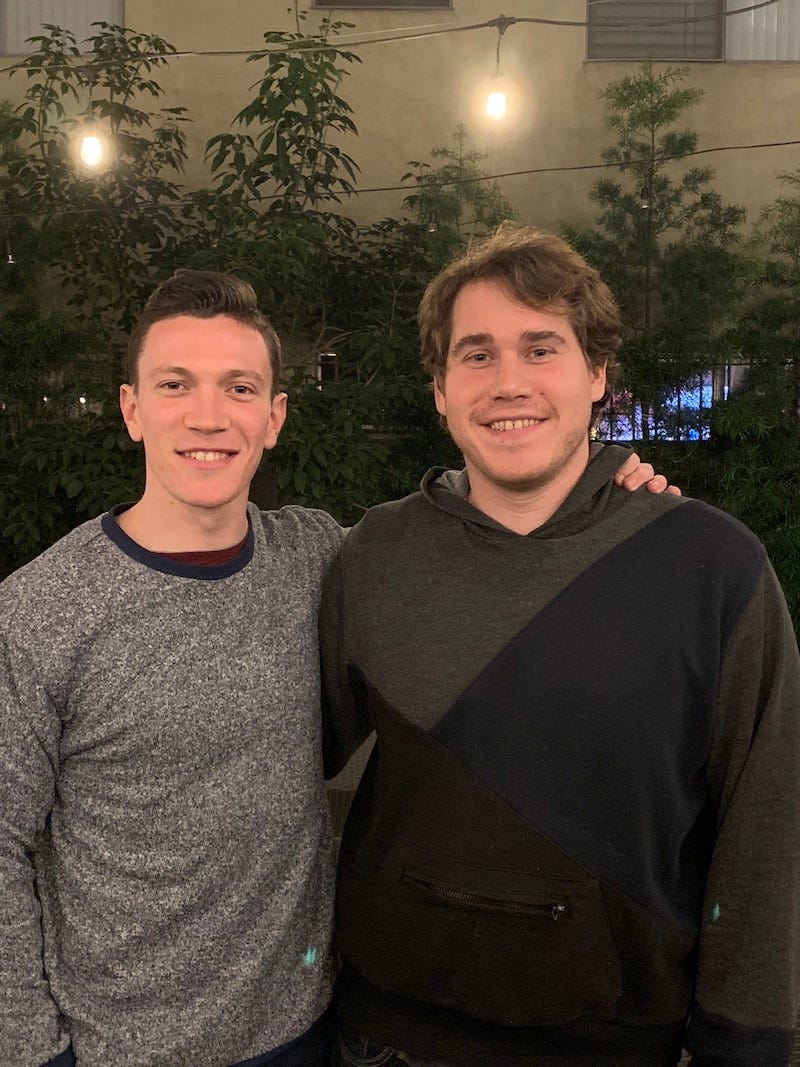 ---
Information is like food. We are what we consume.
Attention is scarce, and there's a direct correlation between how well we allocate and how well we perform in life. The quality of our attention directly impacts health, happiness and productivity.
In this post, I share five heuristics for choosing what to read:
Trust Recommendations — But Not Too Much

Tame the Thrillers

Blend a Bizarre Bowl

Trust the Lindy Effect

Favor Biographies over Self-Help
You can read the full article here.
---
Coolest Things I Learned This Week
Remembering John Bogle
Morgan Housel said it best: "John Bogle, the founder of Vanguard built a nonprofit business with $5 trillion under management. What would have been profit effectively went to retirees. He's the biggest undercover philanthropist of all time."
If you'd like to consume some of Bogle's wisdom, I recommend his 2007 Commencement Speech.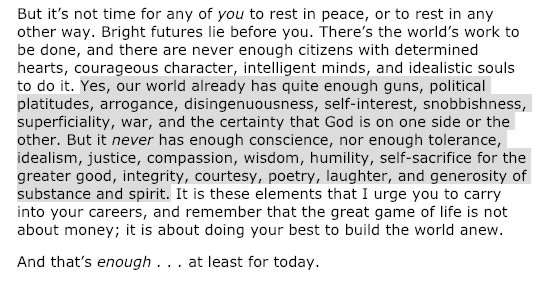 Rest in peace.
---
Be the Secret Supplier
In high profile industries with low barriers to entry, be the secret supplier.
Examples:
E-Commerce: Shopify

Advertising: Facebook

Websites: Amazon Web Services
It's a gold rush. The winners aren't mining for gold. They're selling shovels instead.
John D. Rockefeller did it best. My friend Arjun sent me this screenshot from Titan, Ron Chernow's biography of Rockefeller.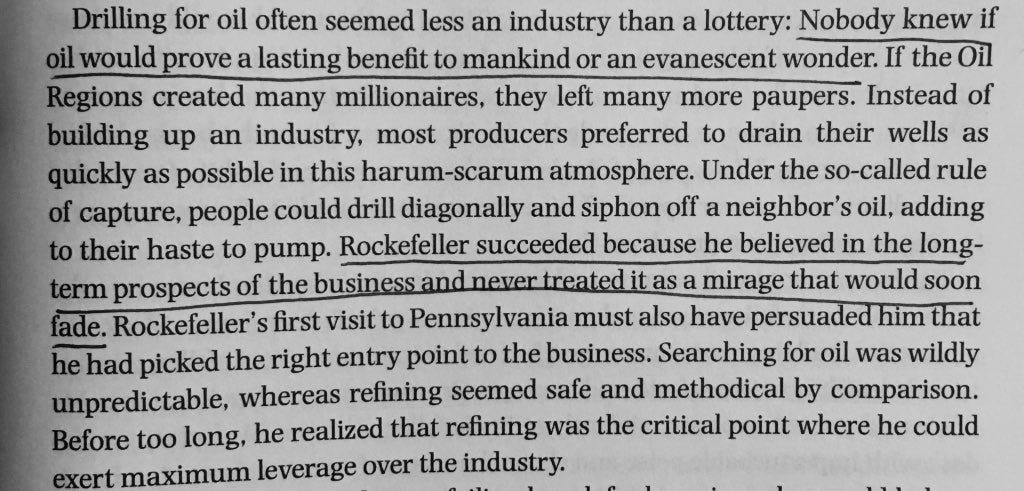 ---
Fortnite is Netflix's Most Threatening Competitor
From Netflix's recent earnings report:
"In the U.S., we earn around 10 percent of television screen time and less than that of mobile screen time. We earn consumer screen time, both mobile and television, away from a very broad set of competitors. We compete with (and lose to) Fornite more than HBO."
---
High-End Malls Are Thriving
Bargain chains are doing well too. It's middle-class stores that are struggling mightily.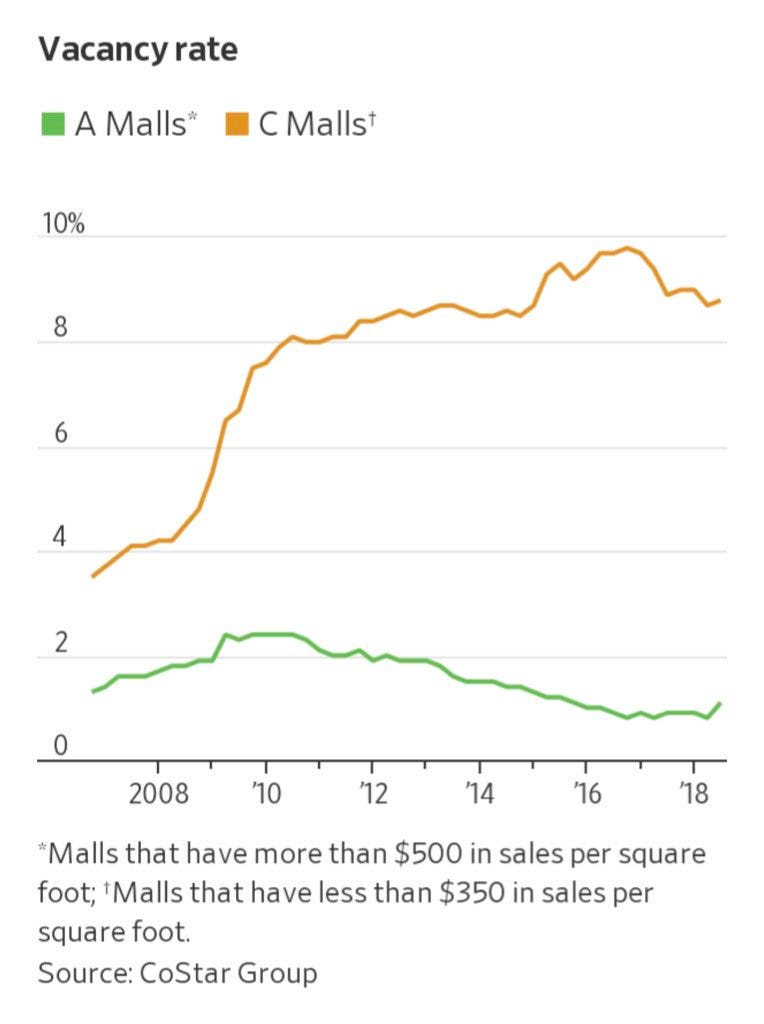 ---
"If you can change people's focus, attention, and their status currencies so they derive more pleasure from what already exists, rather than from what has to be created to sate their demands, you can essentially increase wealth without increasing consumption." — Rory Sutherland
As you may know, I'm a big fan of Sutherland's. He's coming on the North Star Podcast next time he's in New York. I've written about him here and here.
---
Love This from Tyler Cowen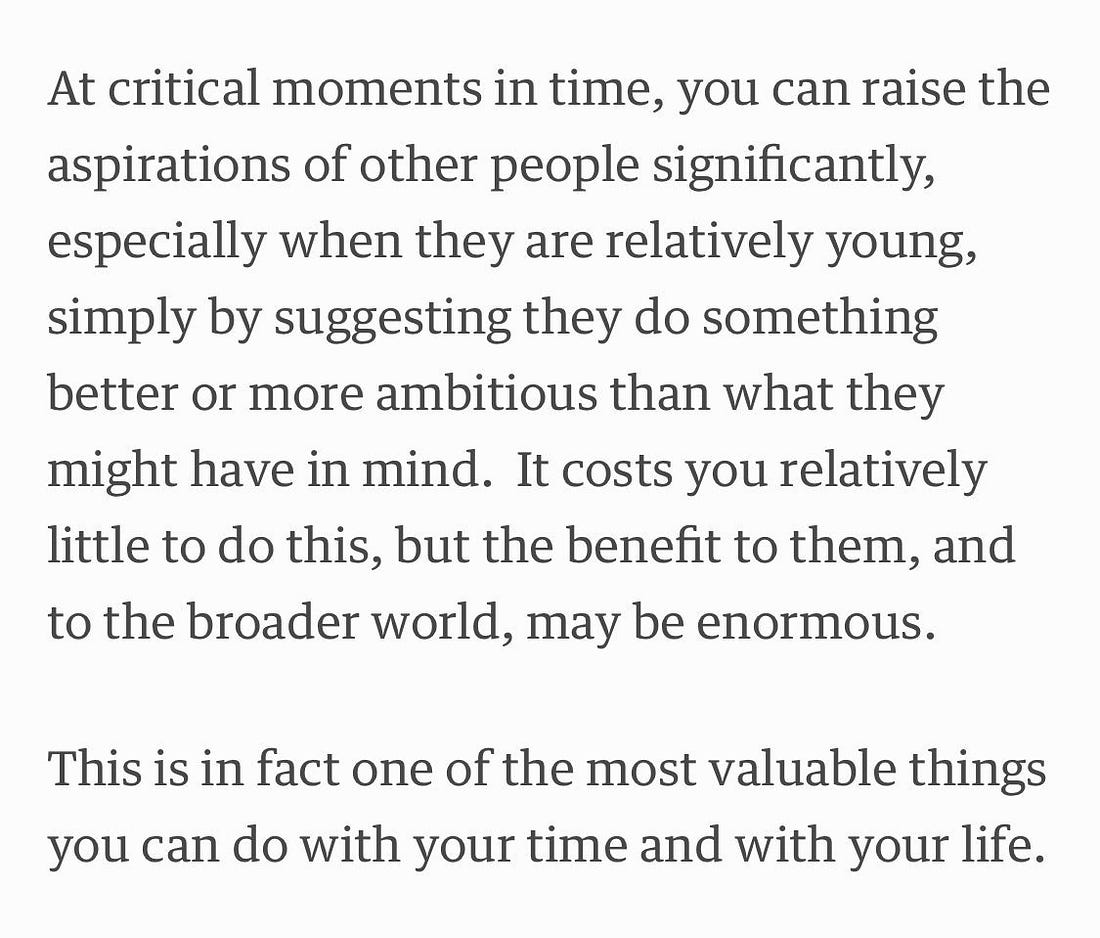 ---
Ira Glass on Taste
I love this quote. Keep creating.
"Nobody tells this to people who are beginners, I wish someone told me.

All of us who do creative work, we get into it because we have good taste. But there is this gap. For the first couple years you make stuff, it's just not that good. It's trying to be good, it has potential, but it's not. But your taste, the thing that got you into the game, is still killer. And your taste is why your work disappoints you. A lot of people never get past this phase, they quit.

Most people I know who do interesting, creative work went through years of this. We know our work doesn't have this special thing that we want it to have. We all go through this. And if you are just starting out or you are still in this phase, you gotta know its normal and the most important thing you can do is do a lot of work.

Put yourself on a deadline so that every week you will finish one story. It is only by going through a volume of work that you will close that gap, and your work will be as good as your ambitions. And I took longer to figure out how to do this than anyone I've ever met. It's gonna take awhile. It's normal to take awhile.

You've just gotta fight your way through."
---
Photo of the Week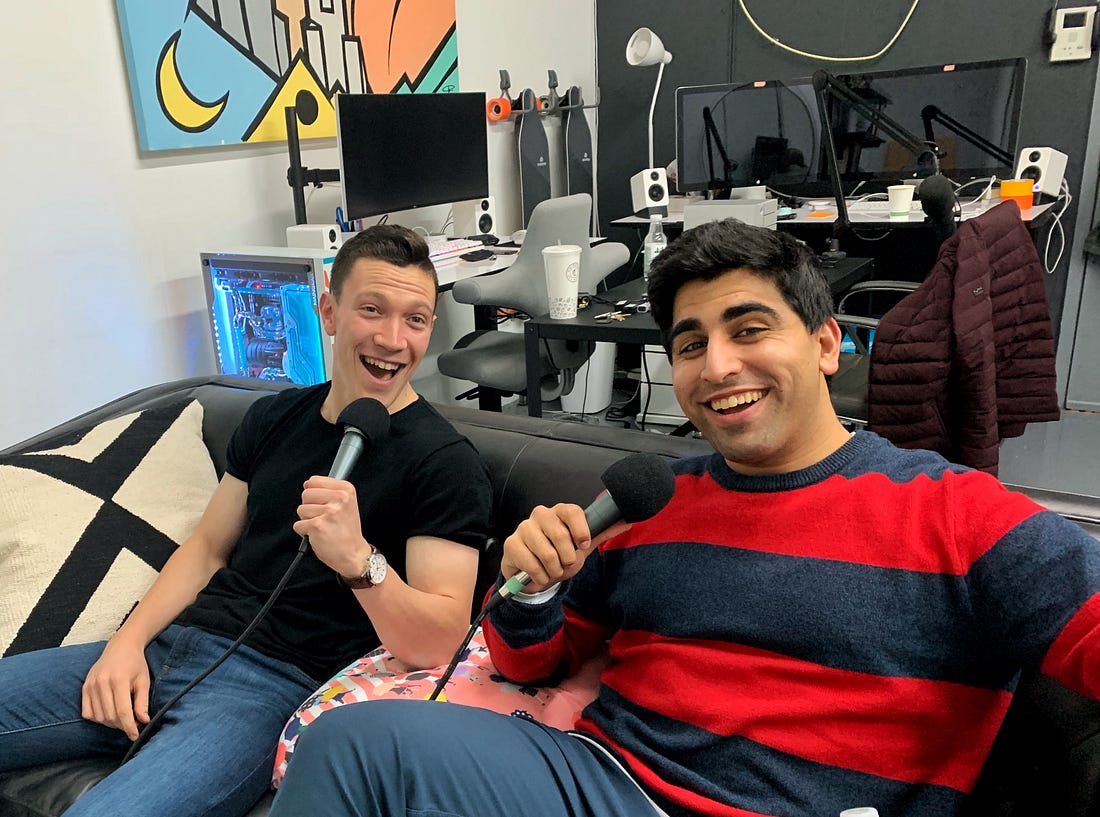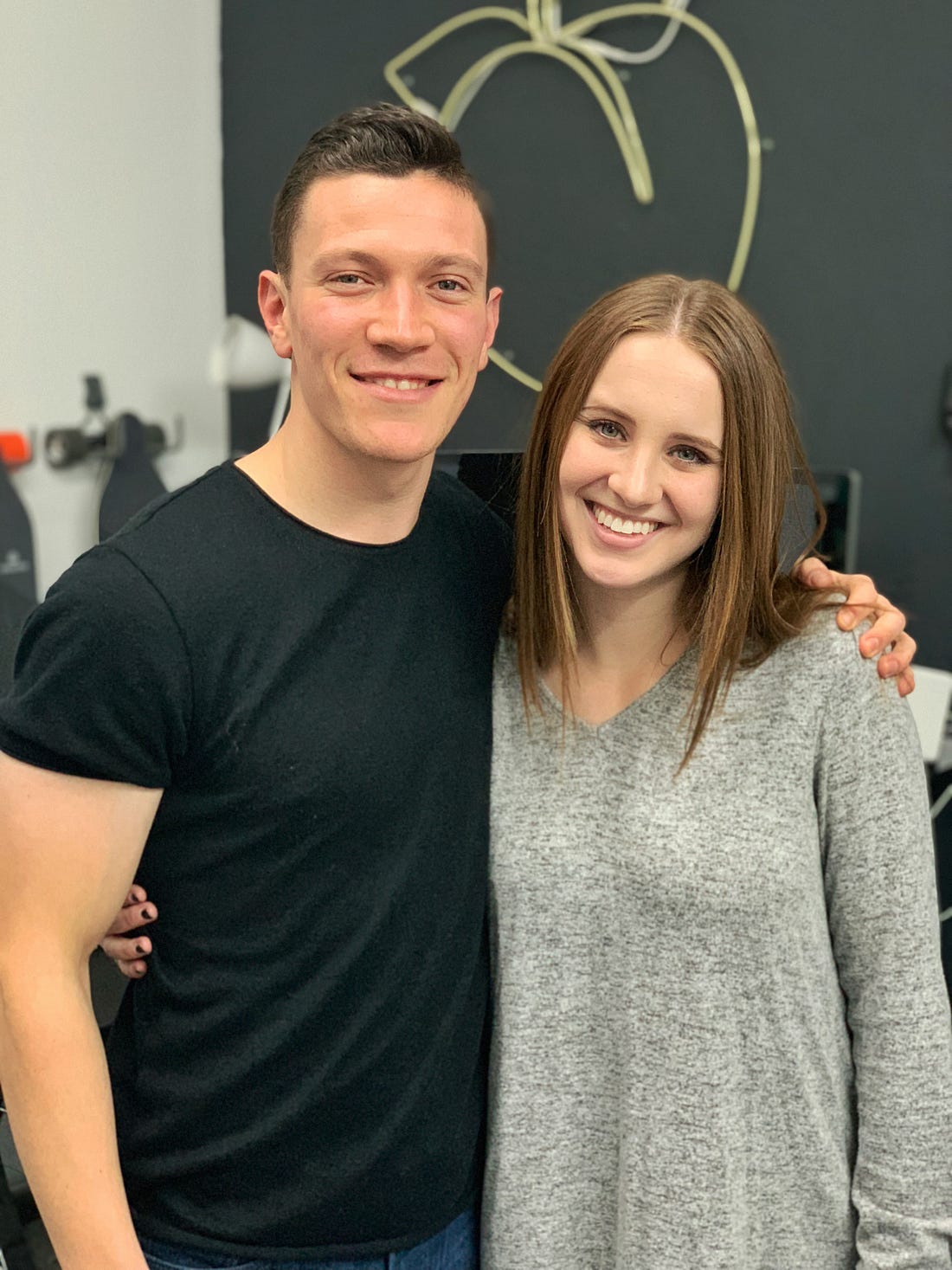 On Wednesday, Sara Dietschy interviewed me and Nik Sharma, the Head of Direct-To-Consumer Commerce at VaynerMedia. It was my first time turning the table around, and instead of doing the interviewing, it was fun to be interviewed.
Sara is one of the coolest people I know. She dropped out of college to make YouTube videos, and now, she has more than 400,000 YouTube subscribers. I hosted her on the North Star Podcast last year.
Nik is one of my best friends. We've written a couple articles together (our most recent article is The Customer Acquisition Pricing Parade). We share our ideas in public whenever possible. We record all our conversations. Then, we take the best stuff and turn it into articles, and soon, a podcast that we will co-host.
The podcast with Sara will go live in February, and when it does, I'll absolutely share it with you.
Until next week,
David Perell