Monday Musings (4/15/19)
Musings from Morocco

What a week! Since we last spoke, I've been exploring Northern Morocco with two buddies. I spent most of my time in Tangier and Chefchaoen, and wow… we had a damn good time.
I'm incredibly bullish on Morocco's tourism sector. I spoke with investors, entrepreneurs, local tour guides, and Airbnb hosts, and the proof is in the pudding: tourism is exploding.
I'm excited about the future of Morocco for three reasons: 
Geopolitics: Western travelers want to experience novelty without danger. They like cheap, exotic places that are safe and comfortable. Morocco is just that. The country was a French Protectorate until 1956, so French is spoken everywhere. Sitting at the Northwestern tip of Africa, right at the Strait of Gibraltar, it's a stone's throw (9 miles) from Spain. For Americans, the flight from New York to Casablanca is roughly as long as the flight from New York to San Francisco. The biggest risk is that many travelers put Morocco in the same sentence as Egypt, Libya, and Tunisia, and when those countries experience political instability, tourism in Morocco suffers. 

Vision 2020: Right now, agriculture is the biggest industry in Morocco, but the Moroccan government wants tourism to jump to #1. Tourism growth is a central component of Morocco's "Vision 2020" initiative. The government wants to double the size of the tourism sector. Progress is already underway: the government has doubled the size of Marrakesh's airport, expanded the airport in Fez by 500%, and built a new high-speed train from Tangier to Casablanca, which is the fastest train in Africa. The national airline is called Royal Air Maroc, and the government owns 100% of it. National airlines are powerful attractors for tourists. Iceland, Singapore, Qatar, Ethiopia, and the United Arab Emirates have seen tremendous success with their national airlines. I expect Morocco to follow suit and further position itself as a gateway to Africa. 

Instagram: The world is becoming more "imagistic." Beautiful images are outstanding marketing tools, and Morocco is a country of stunning Instagrammable backdrops. It might be the most Instagram-friendly country I've ever visited. A couple years ago, a friend and I poured through his photos of Morocco's Riads, and after seeing the photos, I was determined to visit. Then, before my trip, my sister asked if I was going to visit "the blue city." Spoiler alert: I did. It's called Chefchaouen, and it's crazy Instagrammable. It's as if Morocco's 19th-century kings anticipated the arrival of Instagram two centuries before it arrived. 
In the next few weeks, I am going to do a deep dive into the history and future of Moroccan tourism. If you have thoughts on Morocco, tourism, or if you know anybody who can point me in the right direction, please let me know.
---
Fresh Ideas
Well… well… well… Tiger Woods won the Masters!
Without question, it was one of my favorite sports moments of all-time. There are two other contenders: the Golden State Warriors playoff run in 2007 and watching the San Francisco Giants win the World Series in 2010. 
On that note, I interviewed the world's top golf statistician.
Mark Broadie is famous for inventing the strokes-gained statistic. He works with many of the world's top golfers including Justin Rose, formerly ranked as the #1 golfer in the world, and now ranked #2.
And yes... we talked about why Tiger Woods was so dominant for so many years. Listen to this episode and you'll know more about golf than 99% of people.
Listen to the podcast here: iTunes | Spotify | Website
---
This article mirrors the structure of my online course, Write of Passage.
People seem to love it. It's been read more than 10,000 times since I published it four days ago. In it, I share five rules for writing:
Ignore the "Thoreau Model"

Build a Personal Monopoly

Switch from Outbound to Inbound

Zoom in

When you start, focus on quantity over quality
Note: If you want to sign up for Write of Passage, the deadline is April 25. I'll be hosting a Q&A session this week (April 16 at 7:30pm EST). You can register here.
---
Coolest Things I Learned This Week
The Growth of SpaceX
10 years after its founding, SpaceX had 0% market share. 16 years after its founding, it had more than 50%.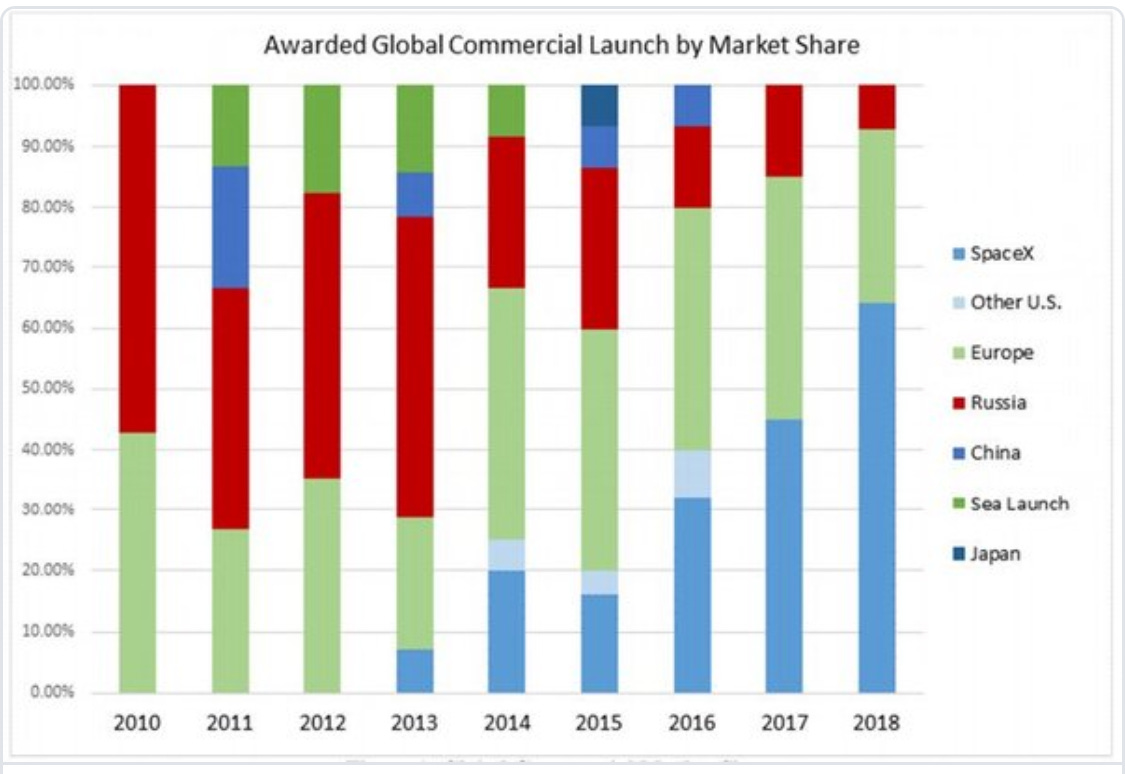 ---
Find your tribe. Then… team up and support each other.
This paragraph from John Lilly is a 10/10.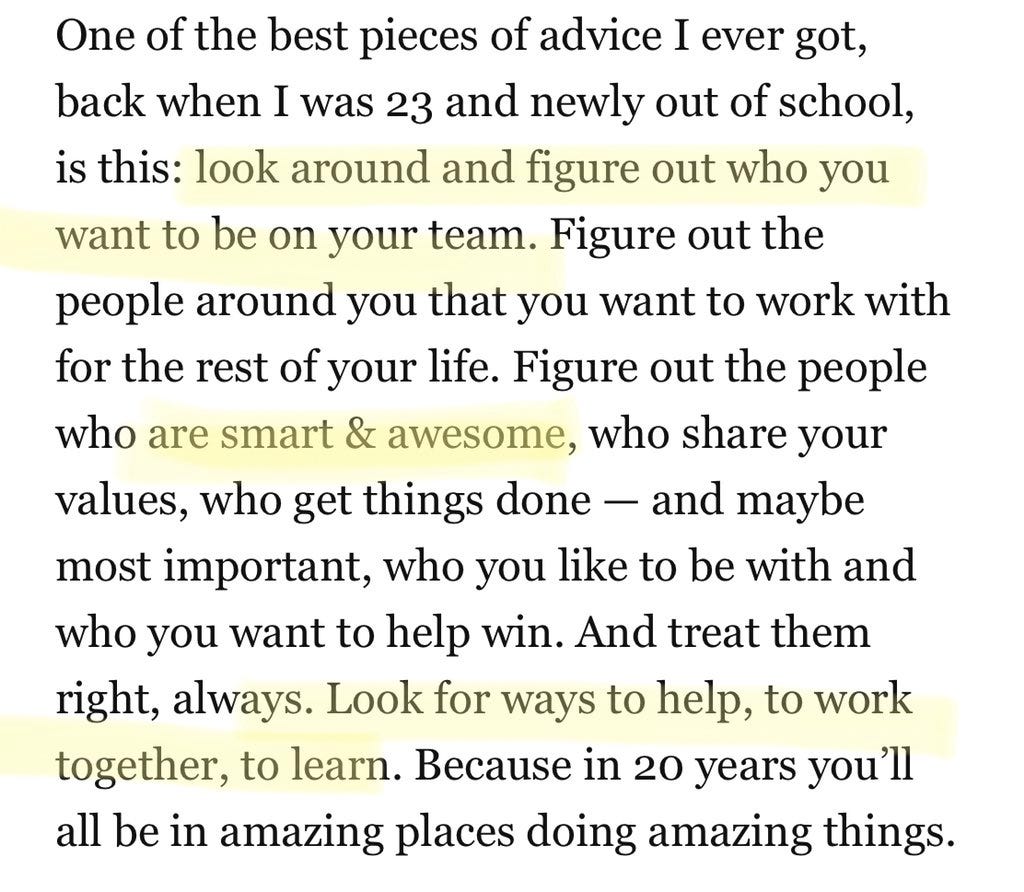 ---
Here's Alex Danco:
"Henry Kissinger has a famous quote, referring to his time at Harvard: "The battles were so fierce because the stakes were so small." 

This isn't merely an observation; this is in fact a causative relationship: the smaller, the pettier, the more insignificant the challenge, the more comically and sullenly people will obsess and fight over it. 

Why is this? 

Because tiny stakes imply similar participants; often peers or neighbors. When differences are great and stakes are high, our opponents are likely quite distant from us, and we treat them like straightforward rivals. But when differences are minute, our peers start out as role models and then steadily morph into objects of envy who live next door. 

That's where the real hilarity comes from, as does the equally real Shakespearian tragedy that follows."
Note: The full post is exceptional and worth reading.
---
Movies and Culture
Eugene Wei (a previous North Star Podcast guest) has been sharing excellent snippets via a new text message journaling platform.
These was my favorite: 
The new Joker trailer seems to fit the dominant framework of movies from the West, in which all that we become can be traced back to something that happened to us in our past. Often it is something in our childhood that is used to explain how we became who we are. This is less common in films from other cultures which fascinates me. Why, in the West, do we subscribe so hard (well, at least our movies do) to this model of personality causality? I guess no one can respond here but if you have theories you can find me elsewhere.
---
Crazy Story
A young Henry Ford once pitched the gasoline engine to Thomas Edison. 
Edison replied: "Young man. You have the thing. Keep at it."
Ford later wrote: "No man up to them had given me any encouragement."
---
Excellent Writing Advice
Focus on consistency and quantity of writing, NOT quality. Quality comes with consistency.
Ideally, write every day at a particular time with a set number of pages or up to a set time, not just when/till you feel like it. Universally, most writers write first thing in the morning. For some writers, a single good paragraph is the output of a productive day.
Embrace the journey. My writing often starts heading in one direction, and once I've written it out, I realize it's about a totally different topic.
Note: This is exactly the kind of thing I teach in Write of Passage.
---
Photo of the Week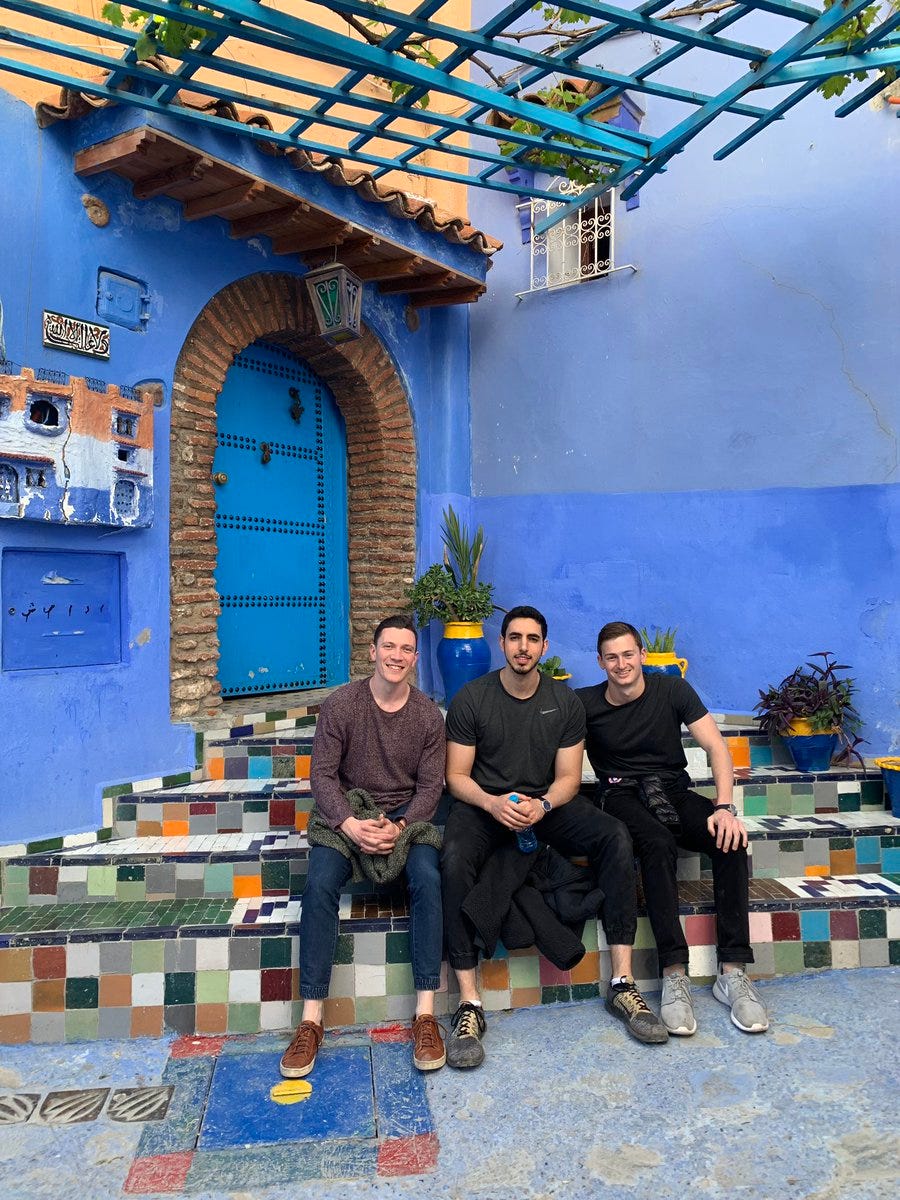 I have hundreds of photos from Morocco.
We ate, we hiked, we explored, we laughed, we learned, and I have photos of just about everything. 
Ultimately, I'll never forget the trip to Chefchauoen. It's a rural little village in the Rif Mountains in Northern Morocco, and the entire city is painted blue. 
Like so many other parts of Morocco, Chefchauoen feels like a dream. That's why tourism is growing so fast.
Until next week,
David Perell