Monday Musings (2/4/19)
Wind-Swept Chicago

Hey everybody,
Brands are fascinating. Since we live in a world of incomplete information, we make decisions with limited information on a daily basis, and that's why we need brands.
Brands are signals. A brand that signals how old they are says "you should trust us because we have experience." A brand that associates itself with a celebrity says "you will become more like this celebrity if you purchase our product." A brand that advertises during the Super Bowl says "we can spend lots of money on this advertisement because we have tons of customers and care about the long-term."
Due to the sheer volume of information available to us, marketing and entertainment are converging. Twenty years ago, if you were watching TV and a commercial came on, you had to sit through it. Now, if there's an ad we don't like, we can look at something else on our phones instead. Social media works similarly. If there's an ad you don't like, you can just keep scrolling.
In short: most modern advertising demands consumer buy-in.
My favorite consumer brands are content-driven. Through content, they attract an audience, build relationships with those audiences, and promote their products in organic fashion. The perfect brand has the following assets:
An ecosystem of original content

Incredible curation

Live events to bring the community together

Merchandise sales for die-hard fans

Native advertising channels to keep customer acquisition costs low

Valuable intellectual property

A global community of passionate fans
Here's the crazy part: I just described Disney and they've known this since 1957. Here's their original content-enabled business model, which is still forward-thinking in 2019.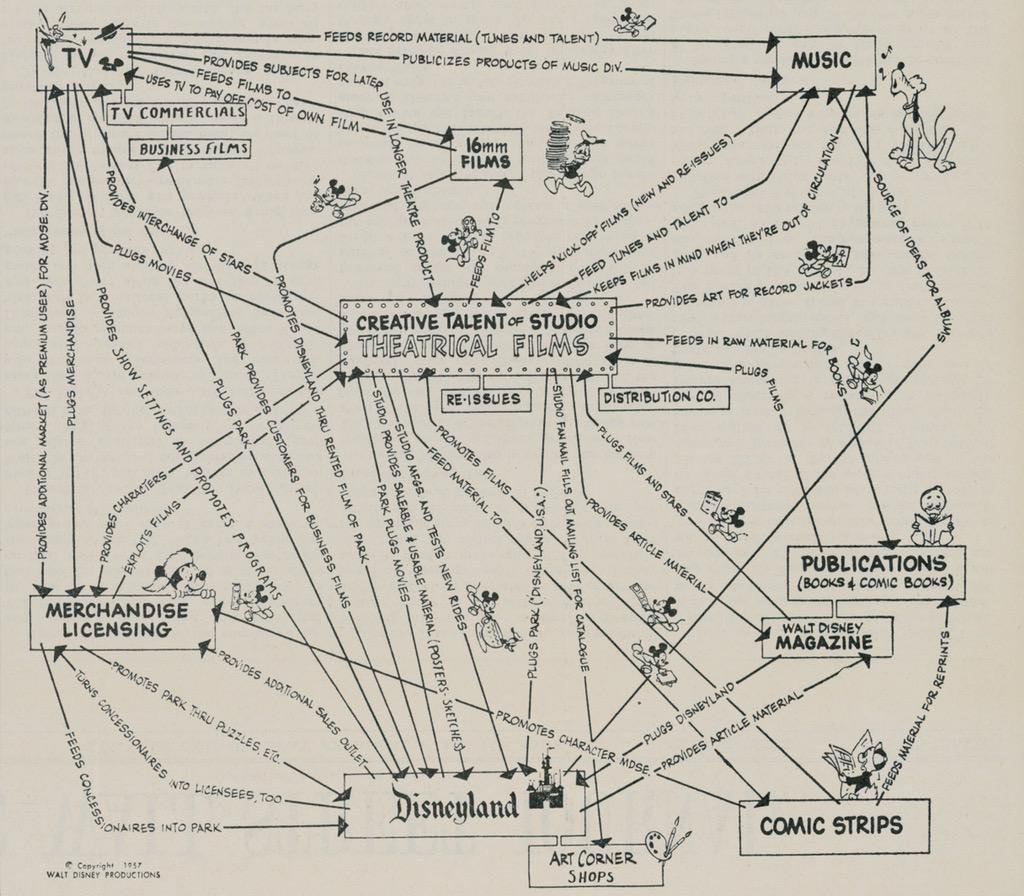 ---
Note: I'll be hosting a Monday Musings meet-up in Chicago this week. Here are the details:
Date: February 6th, 6:30pm

Location: On Tour Brewing Company

Address: 1725 W Hubbard St. Chicago, IL 60622
If you plan to attend, please let me know by responding to this email.
---
Fresh Ideas
America isn't as democratic as you think. Not in a bad way. But the truth surprised me.
Contrary to popular belief, the Framers of the Constitution didn't want too much democracy.
As the Framers designed Congress, they split the powers of governance between the House of Representatives and the Senate. The House is the deliberate branch; the Senate, the slow one. And in this post, I explain why.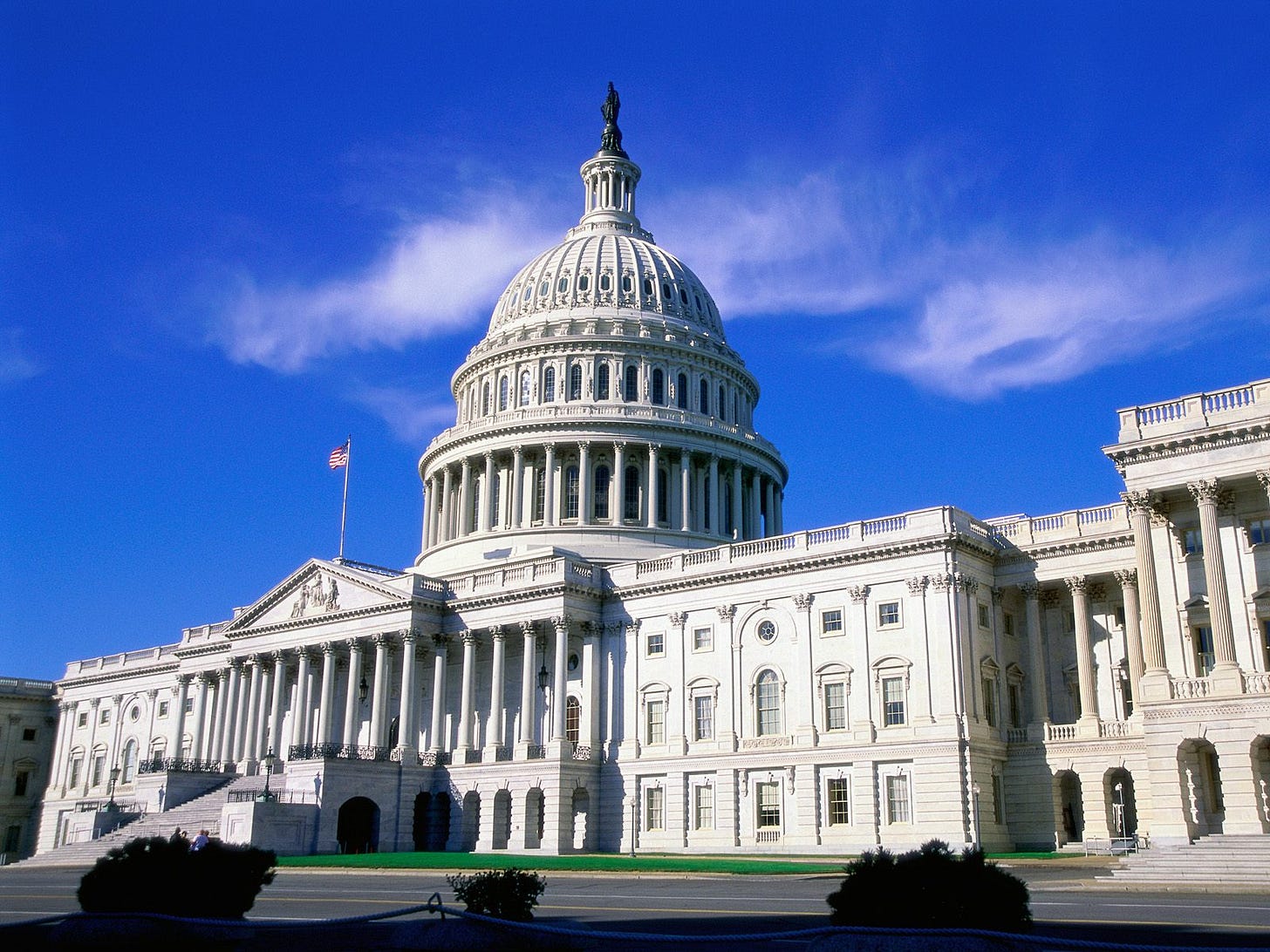 ---
I interviewed Derek Thompson last year and want to share the podcast with you again. Recording it was pure joy, and there's lots of laughter in this one.
We talked about: 
Shakespearean language

Shifts in modern culture

Modern celebrity and the rise of "ambient intimacy"

Why a truly great Hamlet movie is probably impossible

The non-fiction journalist's case for reading more novels.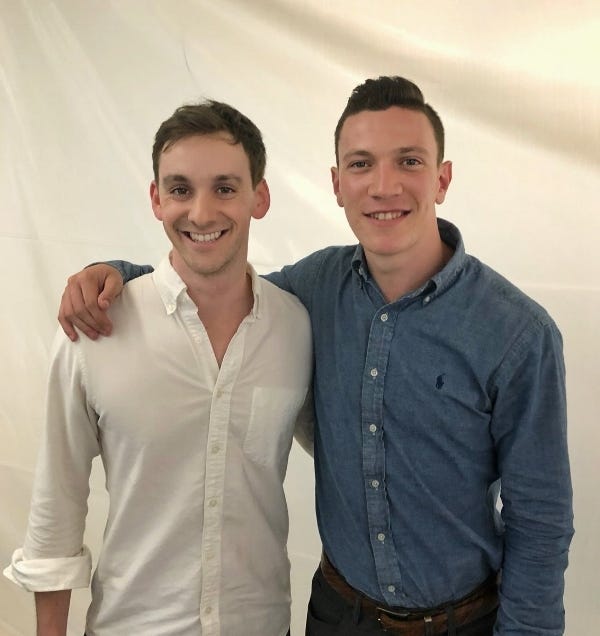 ---
Coolest Things I Learned This Week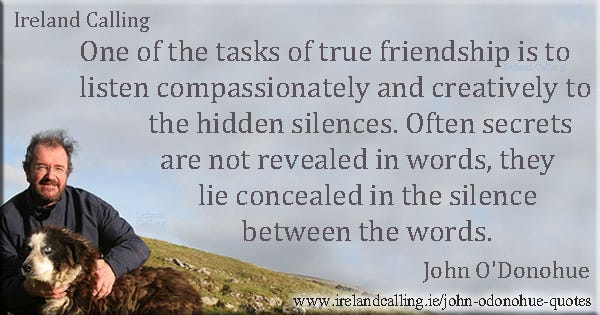 "When was the last time you had a great conversation? A conversation that wasn't just two intersecting monologues, but when you overheard yourself saying things you never knew you knew, that you heard yourself receiving from somebody words that found places within you that you thought you had lost, and the sense of an "eventive" conversation that brought the two of you into a different plain and then forthly, a conversation that continued to sing afterwards for weeks in your mind? Conversations like that are food and drink for the soul." — John O'Donohue
Side note: If your soul needs some nourishment, I can't recommend this podcast with John O'Donohue enough.
---
Stephen Curry's Work Ethic

---
Messi and Ronaldo Are Total Outliers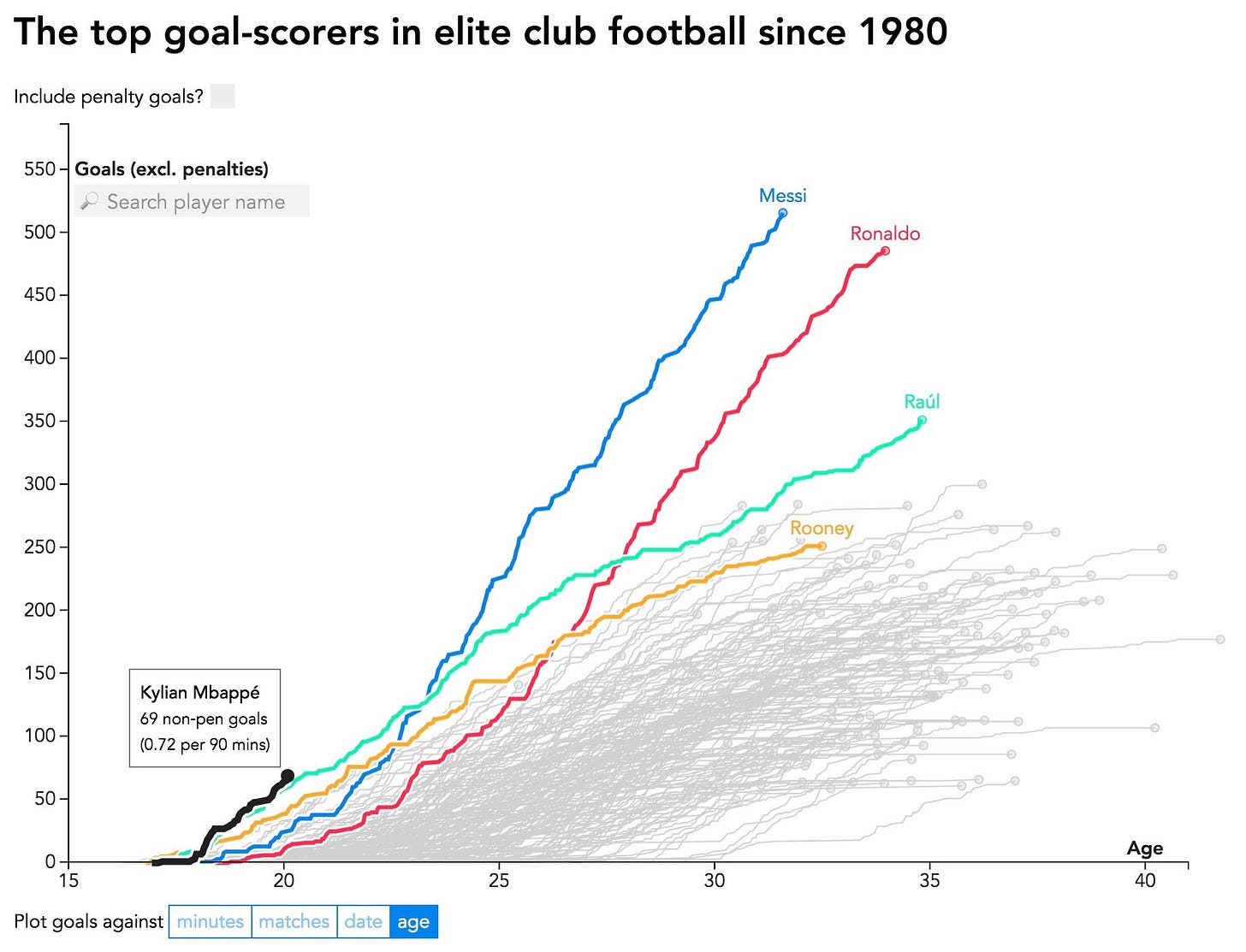 ---
New York City
Morgan Housel sent over this dainty little poem about New York City. It describes the city perfectly:

---
Goodhart's law is an adage named after economist Charles Goodhart: "When a measure becomes a target, it ceases to be a good measure."
The law states that once a social or economic measure is turned into a target for policy, it will lose any information content that had qualified it to play such a role in the first place.
Famous examples of Goodhart's Law:
Soviet factories were given targets on the basis of numbers of nails produced many tiny useless nails and when given targets on basis of weight produced a few giant nails. Numbers and weight both correlated well in a pre-central plan scenario. After they are made targets (in different times and periods), they lose that value.

Hospitals in Britain were taking too long to admit patients, so a penalty was instituted for wait times longer than 4 hours. So, some hospitals had ambulances stall and drive longer to shorten in-hospital wait time, perverted very function of the institution. 
If you're interested in Goodhart's Law, I recommend this article.
---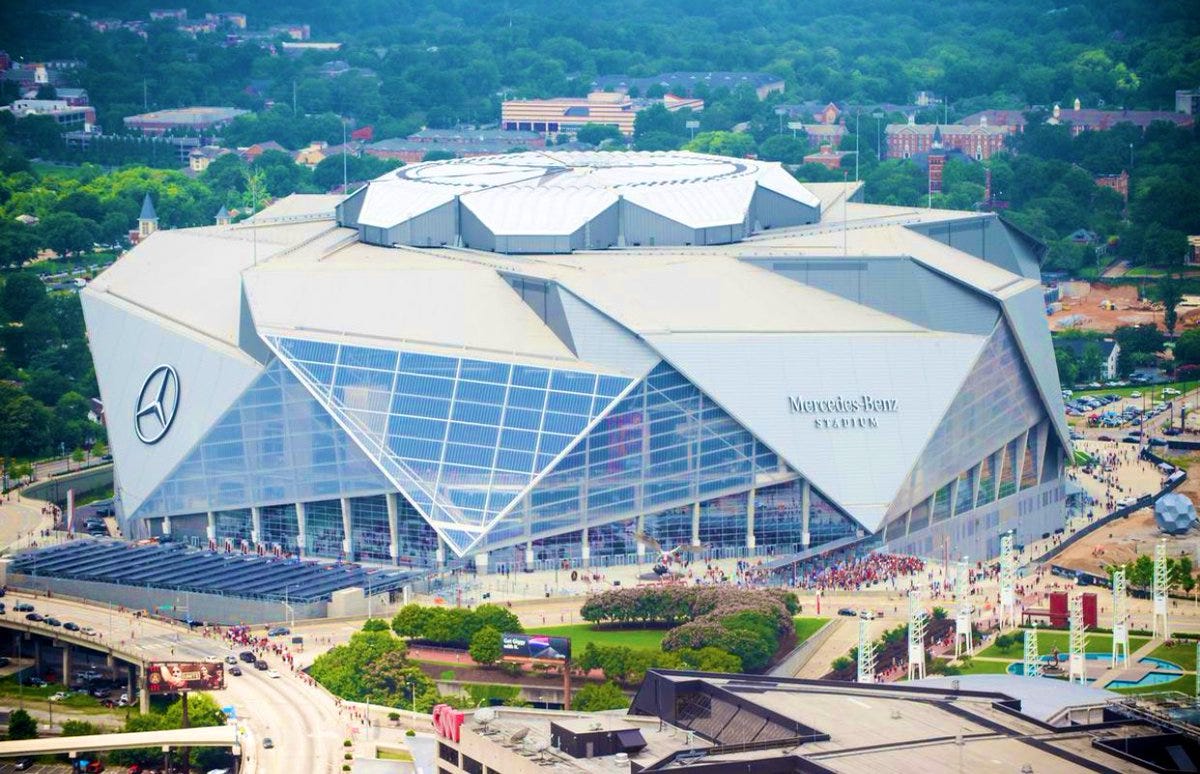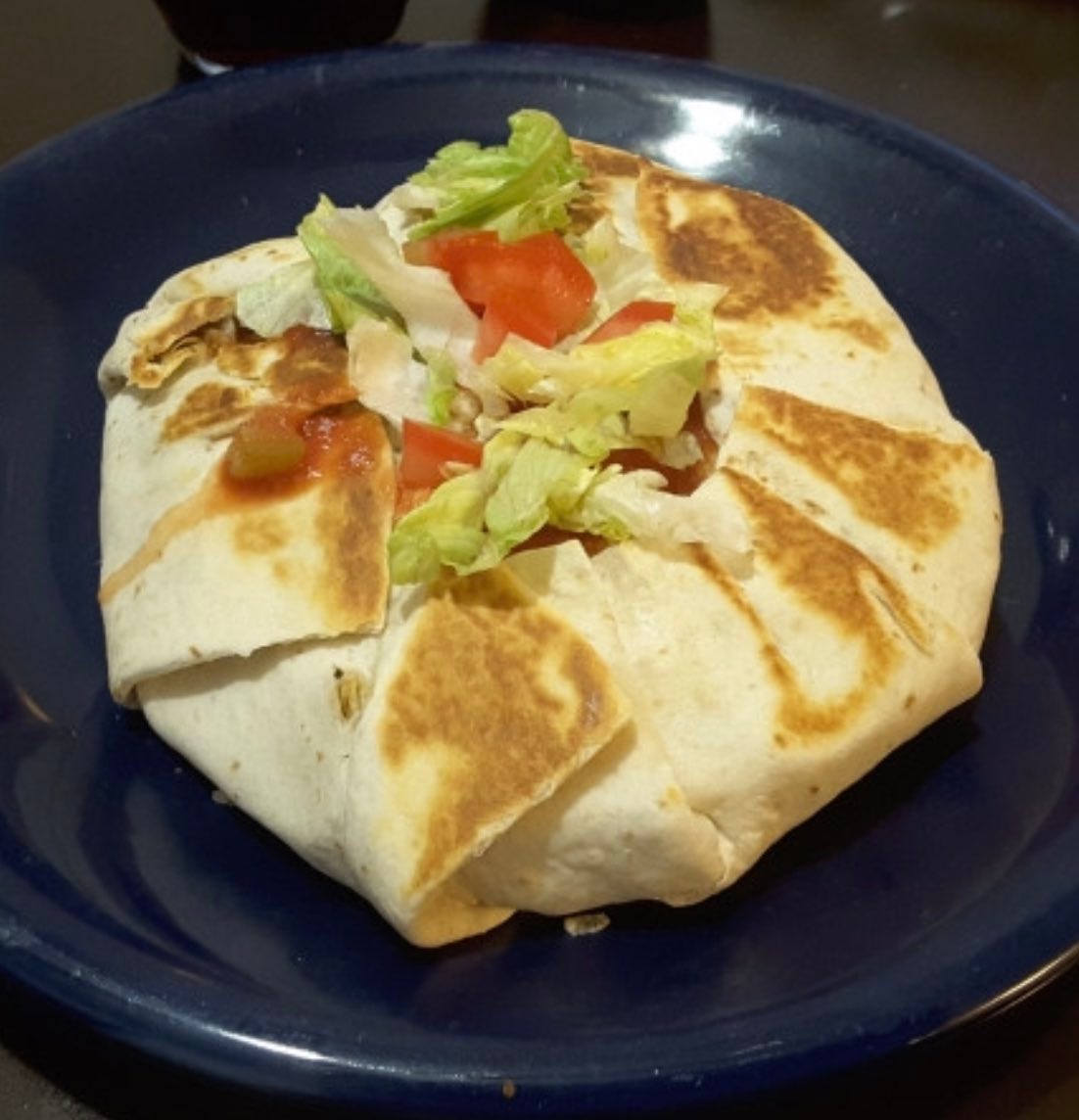 ---
Since its IPO in 1997, Amazon has made $20 billion in cumulative net income. Apple made $20 billion in net income last quarter alone.
Amazon market cap: $840 billion (largest company in the world).
Apple market cap: $787 billion.
---
"Today, humanity fabricates 1,000 times more transistors annually than the entire world grows grains of wheat and rice combined. Collectively, all those transistors consume more electricity than the state of California."
---
Frozen Lake Michigan 
An airplane passenger snapped this photo while flying into Chicago this week.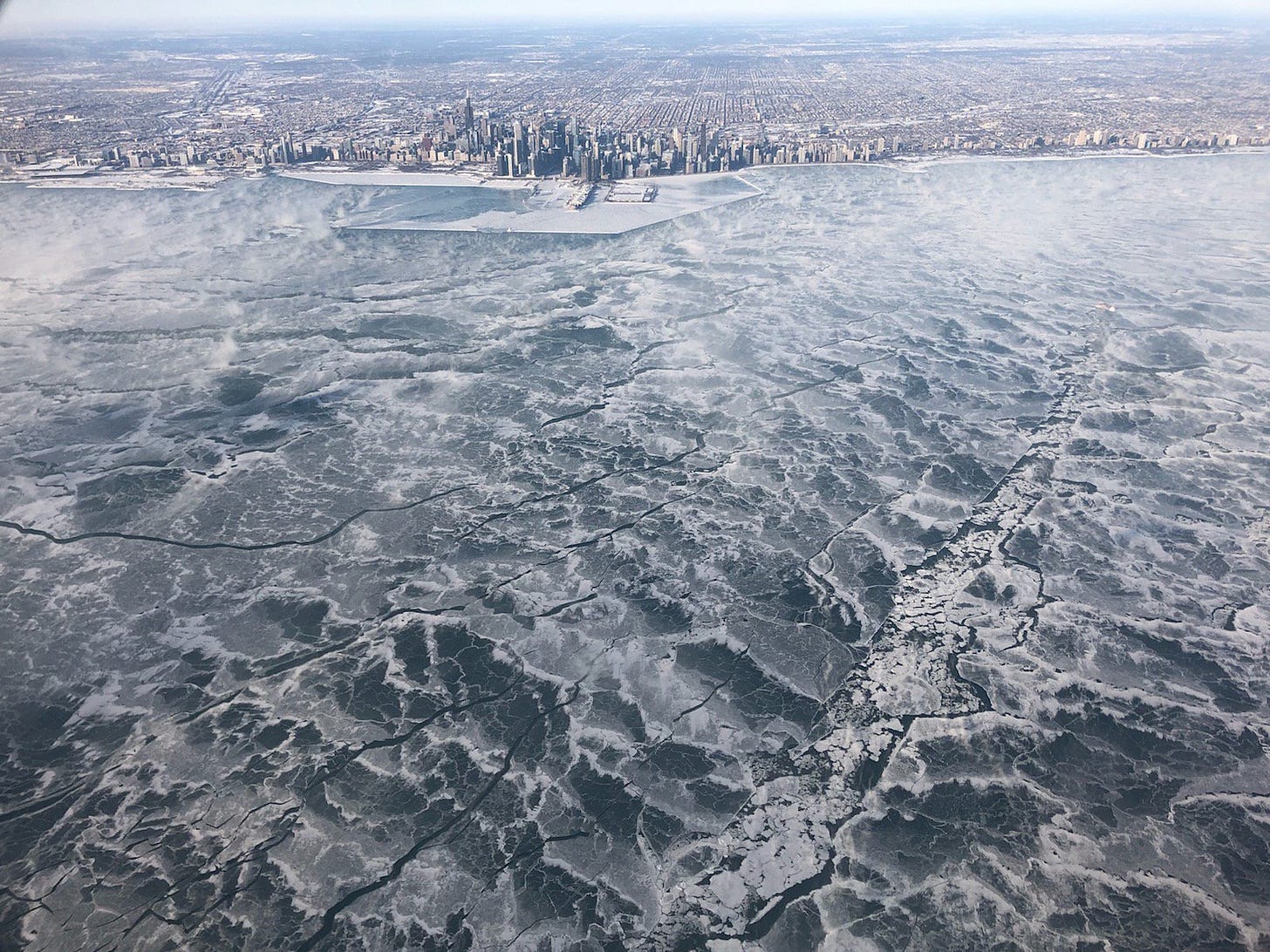 ---
Photo of the Week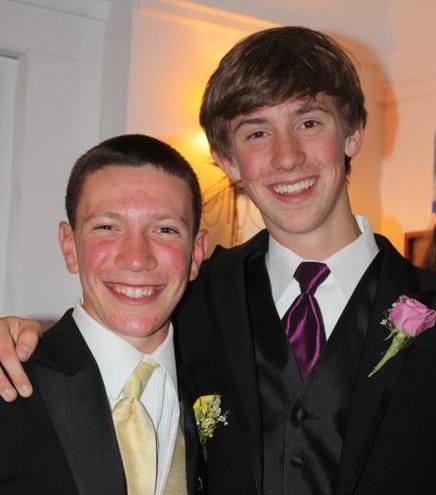 Off to Chicago this week for client meetings and podcast interviews.
On Friday, I'll be interviewing Nick Kokonas, the founder of Alinea, which has been ranked as the #1 restaurant in America.
But more importantly… I'll be staying with my closest friend from high school, Zander Nethercutt. We snapped this photo (that's me on the left and Zander on the right) at our junior year high school prom.
Zander is also an outstanding writer. His article, People Don't Buy Products, They Buy Better Versions of Themselves, was one of the most popular articles on Medium in 2018.
Let the reunion begin!
Until next week,
David Perell