Monday Musings 3/25/19
Write of Passage Announcement

Hey everybody, 
I'm thrilled to announce my new online course, Write of Passage. The goal of the course is simple: I'll give you the tools to accelerate your career by writing online. 
Some background: My goal for 2019 is to help 1,000 people start writing. Writing online is the single best decision I've made in the last decade, and it's led to every significant moment in my career. Jobs, clients, grants, speaking engagements, podcast appearances. You name it. 
Through my writing, I've received a grant from George Mason University, landed a job at an advertising agency in New York, found consulting clients, built an audience of more than 8,000 email subscribers, and attracted stellar guests for the North Star Podcast. I've met people from all sectors of the economy and every corner of the globe who share my passion for learning and intellectual exploration. 
Writing is the new resume. Whether you're building a business, leading a project, or applying for a new job, writing is how you get attention.
Now, it's time to share what I've learned with you.
Writing online is nothing like the kind of writing you do in school. In school, you analyze literature and write 5-paragraph essays. But on the Internet, you must communicate in a clear, simple and convincing manner. Based on this realization, I flipped traditional writing education on its head, and created a simple and proven roadmap for online writers to follow. 
Write of Passage is divided into seven modules:
The Age of Leverage

Make Your Serendipity Vehicle

Create Your Online Home

Set up Your Distribution System

Learn to Write Clearly and Persuasively

Connect with Anyone

Build Your Personal Monopoly
These are the seven essential elements of success for publishing written content online. 
By the end of the course, you'll have (1) a repeatable system for writing consistently, (2) a collection of published articles, (3) a professional website, and (4) a method to distribute your ideas directly to friends and colleagues.
You'll develop a fresh approach to writing. Writer's block will become a thing of the past. No longer will you feel like you're shouting into an empty room, with nobody listening. You'll learn to leverage the information you're already consuming and the thinking you're already doing to create tangible knowledge assets that last forever. 
As you receive more and more feedback about which of your ideas are most valuable, you'll refine your voice, find your niche, and attract an audience that is looking for exactly what you're creating.
Signups begin today, and the first session starts on May 1. The sales window closes at midnight EST on April 23. Write of Passage might be a good fit if you want to:
Publish quality content on a consistent basis

Boost your influence in your field, organization or industry

Create intellectual assets that grow in value over time

Build a following that brings you personal and professional opportunities

Connect directly with peers, colleagues, and leaders in your industry

Shift from "outbound" – seeking jobs and clients who might want to work with you – to "inbound" – selecting from among pre-qualified leads who are already interested in your work
I'll be hosting a Q&A session on April 2nd at 7:30pm EST. You can register here.
If you're curious, I have some links for you to explore: 
I chose the name Write of Passage because this shift isn't a linear one. It's not a slight improvement in your writing abilities. Nor is it a small step up in your career. It's a complete before-and-after transformation of the trajectory of your career and your life.
I'm eager to begin the course, and I hope you'll join me. 
---
Fresh Ideas
Writing doesn't just communicate ideas; it generates new ones.
For individuals, writing is the world's best networking activity. For businesses, articles are an excellent sales, marketing and recruitment tool.
This post outlines my entire writing process. Super actionable, it will help you become a better writer, remove writer's block, and accelerate your career.
You can read the full article here.
---
Coolest Things I've Learned About Writing
"If you only interact with the people in your geographical proximity, there's a cap on the opportunities you're exposed to. An online brand is a billboard for who you are. 

Your skills, interests, ambitions, accomplishments are the product, the Internet is your distribution. It can attract like-minded people regardless of geography and open doors." 
---
From Andrew Chen, a partner at Andreessen Horowitz:
"Writing is the most scalable professional networking activity - stay home, don't go to events/conferences, and just put ideas down. 

Building your network, your audience, and your ideas will be something you'll want to do over your entire career. Think of your writing like a multi-decade project."
---
From Nathan Barry, the CEO of Convert Kit:
"Writing is how you get attention. And in today's world attention is the most valuable resource. 

Major companies spend billions of dollars on advertising each year in order to interrupt people for a chance at getting attention for their products. Writers get that for free. They have tens of thousands of people raising their hands to say, "Sign me up. I want to read everything you write. You have my attention." 

Then when the writer uses a small portion of that attention to promote something else that will benefit the reader, hundreds or thousands of them buy it. Writers can gather attention better than anyone else. And in today's business world attention is the most valuable resource. 

That's why my friends who are writers are the best paid of anyone I know."
---
Love this from Patrick O'Shaughnessy, the CEO of O'Shaughnessy Asset Management: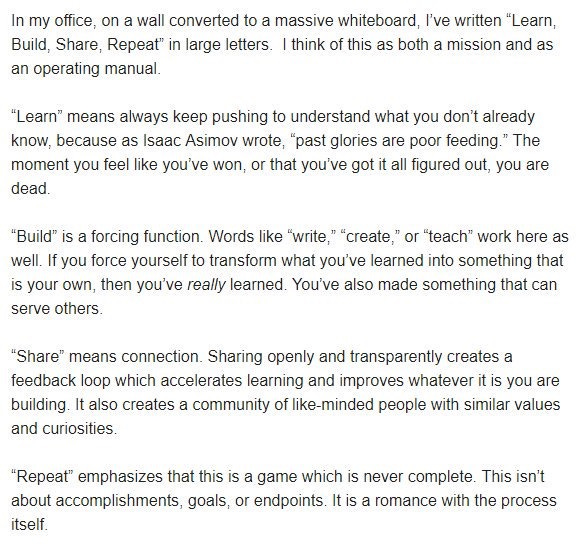 ---
From Steve Cheney, the co-founder of Estimote:
"The easiest way to be discovered right now in technology and perhaps many fields is to create your own independent blog and write. There is a huge dearth in availability of good, current, first party content today.

The single most important advice I can give to actually write is to write. 

The thing that happens which you don't see until you write is that your content engages some of the smartest people who are lurking around the internet. And they reach out to you.

People almost universally cite time as their biggest obstacle in writing. 

But is that really it? Although you will need to reallocate time from other things, the frame you should look at it through is as follows: you've already spent 10,000 hours working on the craft you know about. And you've already probably spent 100 concentrated hours consuming, reading, and listening to podcasts that you can recall in your short term memory about the topic to even consider writing. 

The truth is the 10 hours it takes to write something is already dwarfed by this sunk cost. If you don't write, you are effectively stopping at the easier ask. It's important you emphasize to yourself that you don't need to relive the experiences it took for you to become a subject expert in order to share them. " 
---
From Bill Gurley, a general partner at Benchmark:
"Twitter is the most amazing networking and learning network ever built. 

For someone whose pursuing their dream job, or chasing a group of mentors or peers, it's remarkable. In any given field, 50-80% of the top experts in that field are on Twitter and they're sharing ideas, and you can connect to them or follow them in your personal feed. 

If you get lucky enough and say something they find interesting, they might follow you, and the reason this becomes super interesting is that unlocks direct message, and now all of a sudden you can communicate directly or electronically with that individual. Very, very powerful. 

If you're not using Twitter, you're missing out."
---
Facts about Writing on the Internet
1. It takes time to build an audience. That's why it's so valuable.  
2. The most interesting people you meet will find you online.  
3. People overestimate the short-term benefits of writing but under-estimate the long-term benefits.
---
Photo of the Week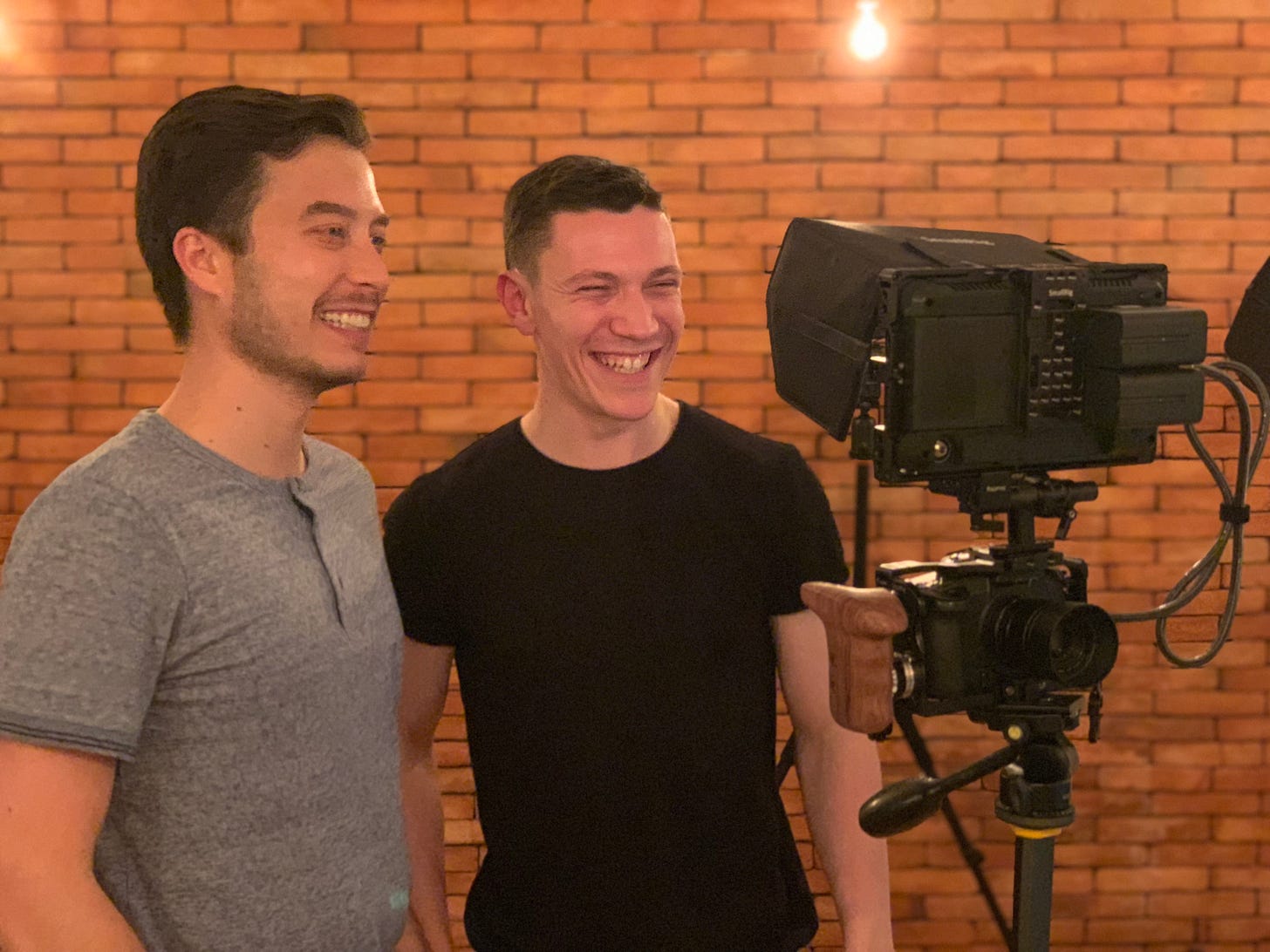 Here's a behind-the-scenes shot from the Write of Passage film set. That's me on the right and my course co-creator, Tiago Forte (the best online course creator I know) on the left.
In February, I met Tiago in Mexico City for ten days of brainstorming, filming, and editing. We filmed all seven modules, which are the foundation of the course. 
I've learned every piece of material the hard way, through hard work and experience. The course builds on everything I've learned and provides a proven roadmap for publishing ideas, distributing them, and building an audience online. 
I hope you'll step up to the challenge and join me. 
See you next week,
David Perell